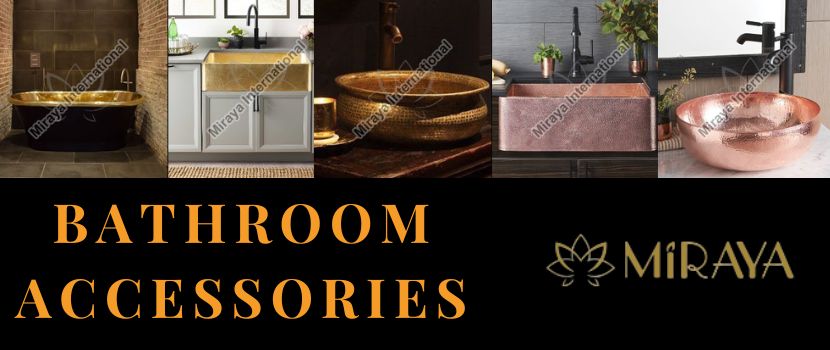 Bathroom accessories have come a long way from being just functional items to becoming an essential part of modern bathroom decor. In recent years, there has been a growing trend of incorporating stylish and functional bathroom accessories that not only enhance the aesthetic appeal of the bathroom but also improve its functionality.
Trends in bathroom accessories
One of the biggest trends in bathroom accessories is the use of natural materials such as bamboo, wood, and stone. These materials not only look beautiful but are also eco-friendly and durable. Another popular trend is the use of matte black finishes on bathroom fixtures and accessories. This sleek and modern finish can add a touch of sophistication and elegance to any bathroom.
How to select the finest bathroom accessories?
Selecting the finest bathroom accessories can be a daunting task, but it doesn't have to be. Here are some tips to help you choose the best accessories for your bathroom:
Consider the Style: Choose bathroom accessories that complement the style and decor of your bathroom. If you have a modern bathroom, opt for accessories with clean lines and a minimalist design. If you have a traditional bathroom, choose accessories with ornate details and classic finishes.
Quality and Durability: Invest in high-quality bathroom accessories that are durable and built to last. Look for accessories made from materials such as stainless steel, brass, and ceramic. These materials are not only durable but also easy to clean and maintain.
Functionality: Choose bathroom accessories that serve a purpose and are functional. For example, if you have limited counter space, choose accessories that can be wall-mounted or hang over the door.
Color and Finish: Select bathroom accessories that complement the color scheme of your bathroom. You can choose accessories in a contrasting color to add a pop of color or select accessories in a similar color to create a cohesive look. Also, consider the finish of the accessories, such as polished chrome, brushed nickel, or oil-rubbed bronze.
Brand and Price: Finally, consider the brand and price of the bathroom accessories. Look for certified and reputed brands known for their quality and durability.
By keeping these factors in mind, you can select the finest piece from a leading Bathroom Accessories Manufacturer India that will not only enhance the look of your bathroom but also improve its functionality.
Role of Leading Bathroom Accessories Manufacturer India
These manufacturers play a pivotal role in designing, manufacturing, and supplying high-quality bathroom accessories to consumers across the country.
Here are some of the key roles played by leading bathroom accessories manufacturers India:
Innovation: Leading manufacturers invest heavily in research and development to come up with innovative designs and solutions that cater to the evolving needs of consumers. They continually strive to improve the functionality and aesthetic appeal of bathroom accessories.
Quality Control: Leading manufacturers ensure that their products meet the highest standards of quality and durability. They use the best materials and manufacturing processes to ensure that their products are long-lasting and perform well.
Customization: Many leading manufacturers offer customization options to consumers, allowing them to choose from a wide range of designs, finishes, and colors to suit their preferences and the decor of their bathroom.
Distribution: Leading manufacturers have a wide network of distributors and dealers across the country, making it easy for consumers to access their products. They also offer after-sales service and support to ensure that their customers are satisfied with their purchases.