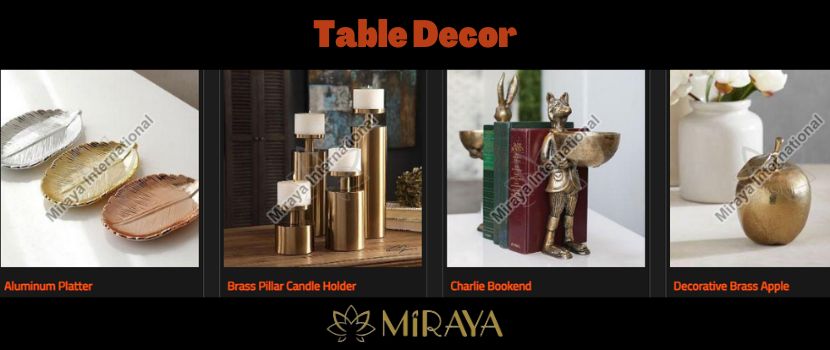 Table decor refers to the arrangement of decorative items on a table to enhance its visual appeal and create a specific mood or atmosphere. Table decor can be used for various occasions such as weddings, birthdays, dinner parties, holidays, or any other special events. As the table décor can be a significant part of your home decoration there it is important to select a reliable table decor supplier in India as per your needs.
Here are some elements that can be included in table decor:
• Tablecloth or table runner: The tablecloth or table runner provides the base for the table decor and can be used to set the tone for the occasion. It can be made of fabric, paper, or other materials, and can be plain, patterned, or textured.
• Centrepiece: A centerpiece is a decorative item placed in the centre of the table to create a focal point. It can be a vase of flowers, a candle arrangement, a bowl of fruit, or any other decorative item that fits the theme of the occasion.
• Place settings: Place settings include dishes, glasses, silverware, and napkins arranged in an organized and aesthetically pleasing manner. They can be formal or informal depending on the occasion.
• Decorative accents: Decorative accents such as place card holders, menu cards, table numbers, or favours can add a personal touch to the table decor and make the guests feel special.
• Lighting: Lighting can play an important role in creating the desired mood or ambience.
Proper maintenance of table decor can help to keep it looking its best and extend its lifespan. Here are some tips for maintaining your table decor:
• Clean and store after use: After using your table decor, be sure to clean it thoroughly and store it in a safe and dry place. If the items are made of delicate materials such as glass, porcelain, or crystal, handle them carefully to avoid breakage or scratches.
• Dust regularly: Dust can accumulate on table decor items, especially if they are left out for extended periods. Use a soft cloth or a feather duster to gently remove any dust or dirt, taking care not to scratch or damage the surface.
• Polish metal items: If your table decor includes metal items such as silverware, candlesticks, or serving trays, use a metal polish to keep them shiny and free from tarnish.
• Store items properly: When storing your table decor, wrap delicate items in tissue paper or bubble wrap to protect them from scratches and breakage.
General qualities of a good Table Decor Supplier in India:
• Quality products: A good Table Decor Supplier should provide high-quality products that are durable, attractive, and functional.
• Variety: A good supplier should offer a wide variety of table decor products to choose from, including different styles, colours, and themes.
• Customization options: A good supplier should offer customization options such as personalization, colour matching, or custom designs to provide a unique and personalized touch to the table decor.
• Competitive pricing: A good supplier should offer competitive pricing that is reasonable and fair for the quality of the products and services provided.
• Timely delivery: A good supplier should provide timely delivery of the table decor products, ensuring that they arrive in good condition and on schedule.